Biography
Rock music is this impossible thing: every song must be deep enough to leave a mark on your soul, but just catchy enough to stick in your head. Ask David Bowie. Neil Young. Kate Bush. Elvis Costello. Matthew Bellamy. Emily Haines. You want to rock, you'd better be an impossible thing yourself.
Then there's Myrrh Larsen, amidst a midnight melange of misfits; fire dancers, acrobats, witches, musicians from jazz to funk to hip-hop, actors, illustrators, and special effects gurus. At the eye of the storm, an enigmatic but unassuming blur of eyeliner, fishnet and leather, Myrrh Larsen might seem an unlikely ringleader. That is, until you see him take the stage.
Myrrh got his start playing classical 'cello, but his life was changed when, on a dare, he picked up the electric guitar. Before long he was playing his own songs at the local punk club, assembling his own band, and in 2010 teamed up with producer/arranger Steve Diamond to record the group's debut album. The four-piece band's exclusive live concerts include a sold-out run of multimedia shows outlining a ghost story in 11 songs, accompanied by synchronized video projections and live butoh-inspired dance.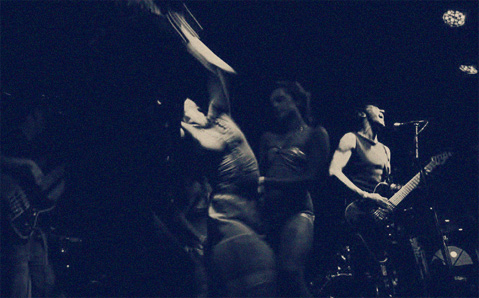 Layers of light and sound synchronize and slip apart; dissonant waves of feedback and harmony collide against a fierce backbeat and confident brace of melody and poetry. Careening around the stage with the precision and chaos of a ricochet, Myrrh is the fulcrum of distortion, alternately in freeze-frame with his lip to the microphone and a captivating blur of pure expression.
You can't fake truth in music: it's either there or it isn't, and Myrrh Larsen songs are rife with it, from each oblique confession to every well-placed note. True, too, is Myrrh's love of ambition in the arts, and his devotion to the growing creative community that has sprung up around him. In addition to curating the Someday Incubator showcase of new performance works, directing the Portland chapter of Dr. Sketchy's drink-and-draw, and producing regular themed variety events in the fringe arts, Myrrh's recent collaborations include a renaissance choral ensemble, a multimedia dance company, a mask fairytale theatre show, and countless rock vocal contributions to bands in the burgeoning underground.